Regular price
$1,100.00
Sale price
$1,100.00
Unit price
per
Sale
Sold out
Why  we  use  6061 aluminum alloy  make the PNP kits.
First: pnpV3's All 6061 aluminum alloy accessories related to precision and service life are processed by CNC  and laser cutting. Tolerance less than 0.05 mm . The motor will generate heat, but the PLA and ABS cannot withstand high temperatures, and their strength is not high enough. Therefore, the pnp machine is not completely suitable for manufacturing with 3D printing, although the cost is very low. The pnpV3 uses 3D printing design only in green positions where there is no requirement for strength and where it will not be heated  by  stepper motor.
Second: you can adapt to larger PCB areas by replacing longer Aluminum profile and guides if you need them in the future. with the continuous upgrading of openpnp software, you can even obtain new functions by replacing new accessories designed by yourself.
Product parameters
Material: aluminum alloy --except for green 3D printing accessories
Total size:L630mm*W640mm*H40mm
Platform size: 500mm*255mm
Length of x-axis linear  guide: 500mm
Length of y-axis linear  guide: 540mm
Net weight: 15kg
Power supply:24V ,14.5A
Input voltage: AC110V/220V
Download  the Installation manual and STL drawings of all accessories   from https://github.com/microsmt/Microsmt-PNP-hardware
This machine  fit  for  0816  feeder. learn about  the feeder  here: https://docs.mgrl.de/maschine:pickandplace:feeder:0816feeder
get  Stripe Feeder  here: https://docs.mgrl.de/maschine:pickandplace:feeder:manualfeeders
Watch the machine work videos  here  : https://www.youtube.com/channel/UCqTbsIRKsTTguuxPiJo4aKw
​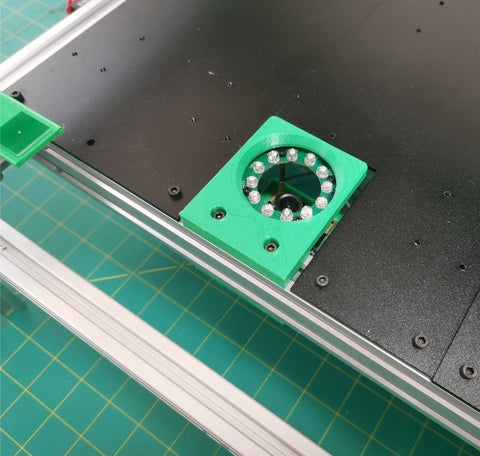 Special note
1:  In order to reduce the transportation cost, you will only receive parts, and you need to assemble the framework yourself.
2:You need to use a 3D printer to print green accessories  and  all  feeders.
3:Please go to openpnp official website to obtain the design information of 0816 feeder.
4:  The  motherboard  is  the  Microsmt pnpboard. It runs the  open source smoothieware firmware. The built-in firmware version is the        contribution of Mark, and you can get it here https://makr.zone/smoothieware-new-firmware-for-pnp/500/ .
5:  You need to go to the OPENPNP official website to learn how to configure the OPENPNP software.
6:   Download  the  Instructions and STL drawings of all accessories   from  https://github.com/microsmt/Microsmt-PNP-hardware
Pack  list
1:  PNPmachine-V3   a  set    ( The motherboard is microsmt  pnpboard V1.7)
    1.1   Mounting Head (belt structure-for juki nozzle)   1pcs
    1.2   A02 Aluminum frame  1pcs
    1.3   Pnpboard  V1.7  1pcs
    1.4   Demo Board PCB  1pcs
    1.5   Bottom USB camera   1pcs
    1.6   Top USB camera   1pcs
    1.8   Belt   6M
    1.9   X-axis  motor  1pcs
    1.10   Y-axis  motor  1pcs
    1.11   Vacuum pump   1pcs
            Solenoid valve    2pcs
    1.12   MW  24VDC  14.5A  power supply   1pcs
2:  Nozzle  a  set  (503--508  one for each size)
3:  0816 feeder  controller *1 ( mega2560  board)
The goods you will receive are as follows, which need to be assembled by yourself
​
​ ​
Share
View full details